Arrow Boards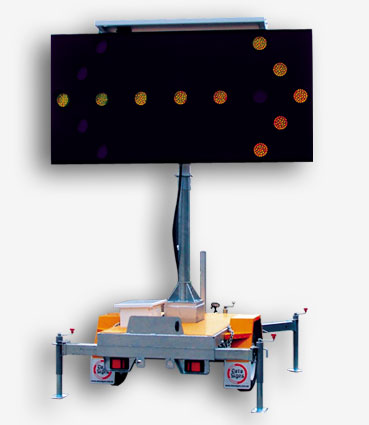 Arrow boards are great resource when it comes to traffic management and road projects. At VMS Hire, we source only the highest quality arrow boards and all of ours are designed and manufactured locally, in Melbourne, Australia, using the latest technology. Our arrow boards come in a variety of sizes and are programmable. Whether you need an arrow board in order to direct traffic, monitor and control road construction operation and car traffic management, you have come to the right place.
Why choose our Arrow Boards?
The trailer-mounted LED signs are fully solar powered, have an optional remote and satellite tracking meaning they can be left outside without needing to be monitored. Our arrow boards are easy to use, and once they are set up, you don't have to worry about an things. The boards are visible from a far distance, so motorists will be aware of where they need to go, in lots of time. If you are after maximum convenience, VMS Hire's arrow boards are your best choice. Get in touch with us today to find out more!
Sign Dimensions
LAMP SIZE: 150mm
SIGN SIZE: 2400Wx 1200H
Arrow Board General Information
• Solar Powered – Environmentally friendly
• SmartSense ® – Automatic lighting conrol for all lighting conditions
• Electric Hoist for fast setup
• GPS Anti-theft & tamper tracking