Speed Advisory Boards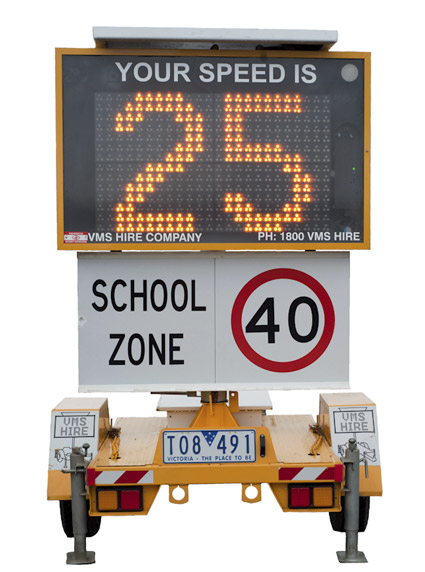 Speed advisory signs are a necessity when it comes to traffic management for major or minor road projects, monitoring speed, notifying drivers of changes in speed zones on freeways, main roads, mining sites, school zones and the likes. Our speed advisory boards are programmable to display the message of your choice, making them the perfect solution to any project. Along with this, they are solar powered and trailer mounted for maximum mobility and most importantly, your convenience.
Why choose our Speed Advisory Signs?
Our speed advisory boards have revolutionised traffic management and the safety of our roads. They are equipped with a radar speed detector, and have radar speed readout, satellite tracking, and data logging capabilities. Anything and everything you can think of that you would need to ensure the success of managing traffic, our speed advisory boards are able to do it. Let us take the stress away from your upcoming project. Get in touch with us today to organise your very own speed advisory sign.
Our VMS have the following attributes:
Real Time, continuous display, 24/7
Australian Standards Compliant (AS4852-2-2009)
Customised dynamic display functions
Full text and graphics supported (animations available)
Ultra bright LED lights for clear visibility
Message changeable at any time
Energy efficient, solar-powered
VMS-220A
SIGN SIZE: 1670W x 1040H WEIGHT: 745KG
WIND LOADING: Certified to 134kph
Suitable for approach speeds to 60KM/H
VMS-340B
SIGN SIZE: 2400W x 1500H WEIGHT: 890/1230KG
WIND LOADING: Certified to 134kph
Suitable for approach speeds to 90KM/H
VMS-400C
SIGN SIZE: 2600W x 1600H WEIGHT: 960/1360KG
WIND LOADING: Certified to 134kph
Suitable for approach speeds to 110KM/H
Compact VMS
SET UP SIGN SIZE: 1430W X 845H X 55D
SIGN SIZE WHEN FOLDED: 215W x 845H x 110d
VMS General Information
Water tank below trailer for extra stability
Full Matrix Display, 1 to 4 lines of text, graphics and animations
Solar Powered – Environmentally friendly
SmartSense ® – Automatic lighting conrol for all lighting conditions
Electric Hoist for fast setup
GPS Anti-theft & tamper tracking