Standard VMS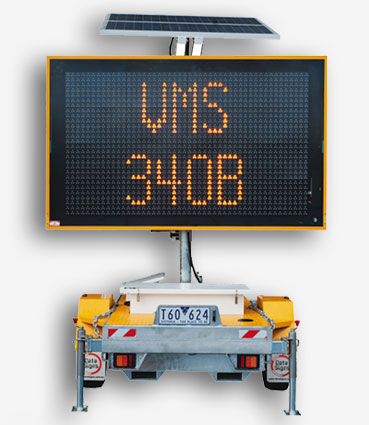 All of our Variable Message Signs are designed and manufactured in Melbourne, Australia, using the latest industry technology. VMS signs can be used for a wide range of purposes, both big and small scale. They are most often used for traffic management, road projects and road work safety. They also work well for advertising and event promotion purposes, providing you with maximum sales impact for your business or event. We also offer a compact VMS sign for hire, which is ideal for shop windows or shopping centres. All of our signs are solar-powered and meet the regulatory Australian standards.
Why choose our Standard VMS Signs?
Our standard VMS signs are the ideal tool to help you go the extra step in your marketing efforts or to be the most efficient when it comes to traffic control and traffic management. Each sign will display your message loudly, clearly, and brightly, and can be seen from a further distance than traditional signs due to its high quality LED lighting. Our standard VMS signs come equipped with a water tank below the trailer for greater stability as well as a GPS anti-theft and tamper tracking device. We encourage you to view our product gallery to browse our VMS signs for hire.
Our VMS have the following attributes:
Real Time, continuous display, 24/7
Australian Standards Compliant (AS4852-2-2009)
Customised dynamic display functions
Full text and graphics supported (animations available)
Ultra bright LED lights for clear visibility
Message changeable at any time
Energy efficient, solar-powered
VMS-220A
SIGN SIZE: 1670W x 1040H WEIGHT: 745KG
WIND LOADING: Certified to 134kph
Suitable for approach speeds to 60KM/H
View Product Gallery
VMS-340B
SIGN SIZE: 2400W x 1500H WEIGHT: 890/1230KG
WIND LOADING: Certified to 134kph
Suitable for approach speeds to 90KM/H
View Product Gallery
VMS-400C
SIGN SIZE: 2600W x 1600H WEIGHT: 960/1360KG
WIND LOADING: Certified to 134kph
Suitable for approach speeds to 110KM/H
View Product Gallery
Compact VMS
SET UP SIGN SIZE: 1430W X 845H X 55D
SIGN SIZE WHEN FOLDED: 215W x 845H x 110d
View Product Gallery
VMS General Information
Water tank below trailer for extra stability
Full Matrix Display, 1 to 4 lines of text, graphics and animations
Solar Powered – Environmentally friendly
SmartSense ® – Automatic lighting control for all lighting conditions
Electric Hoist for fast setup
GPS Anti-theft & tamper tracking