VMS Colour Boards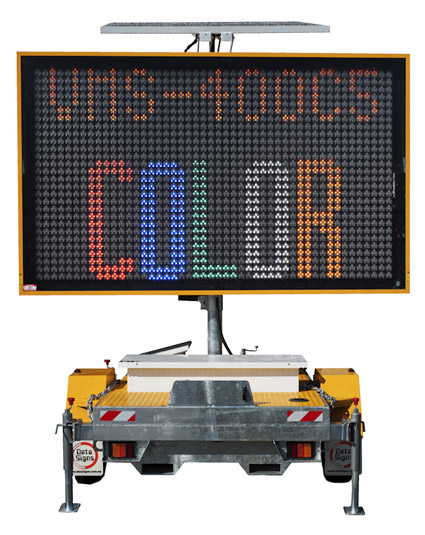 Electronic message boards, otherwise known as VMS boards, are a great option when it comes to displaying information in a simple, eye-catching manner, for hundreds, if not thousands, of people to see. We have wide selection of VMS boards available for hire, which utilise the latest LED technology to create text, graphics and even animations. Typically these boards are used for events and advertising promotions, but they can also be used for traffic management, speed enforcement and anything else you may be able to think of.
Why choose our VMS Colour Boards?
Electronic message boards are easy to set up and will operate consistently and reliably in all conditions – no you don't have to worry about them blowing away in a gust of wind or shutting down in a thunderstorm. Another great benefit is that their enhanced colour functions give you the ability to set up and create a unique message that will really stand out in a way that most other messages cannot. For a service that you can trust, don't hesitate to get in touch with us today!
Our colour VMS signs have the following attributes:
• 5 high visibility colours (red, green, yellow, white and blue)
• Effective for displaying logo's and other graphics
• Real Time, continuous display, 24/7
• Australian Standards Compliant (AS4852-2-2009)
• Customised dynamic display functions
• Ultra bright LED lights for clear visibility
• Message changeable at any time
• Energy efficient, solar-powered
Sign Dimensions
SIGN SIZE: 1970W x 1040H WEIGHT: 745KG
WIND LOADING: Certified to 134kph
Suitable for approach speeds to 60KM/H
Colour VMS General Information
• Water tank below trailer for extra stability
• Full Matrix Display, 1 to 4 lines of text, graphics and animations
• Solar Powered – Environmentally friendly
• SmartSense ® – Automatic lighting conrol for all lighting conditions
• Electric Hoist for fast setup
• Full Matrix Display, 1 to 4 lines of text, graphics and animations
• GPS Anti-theft & tamper tracking